SYSTEM CERTIFICATIONS
Since 1999 TECNOVIDEO manufactures innovative 100% Made in Italy stainless steel CCTV systems, cameras, and accessories, designed to resist in the most severe hazardous and corrosive environments such as Oil & Gas, Marine and Industrial critical infrastructures.
TECNOVIDEO products guarantee to its clients quality, reliability and durability, prerogatives that have been achieved thanks to the following systems certification:

ISO9001 (TÜV SÜD)
Since 2011, TECNOVIDEO has formalized its commitment implementing ISO 9001 Quality Management System Certification issued by Tüv Süd, to maintain and guarantee its high-quality levels. Tüv Süd is a brand known internationally for its reliability, safety, and impartiality.

TECNOVIDEO Quality Policy is designed towards:
- the improvement of the relationship and the degree of customer satisfaction.
- associating the corporate image with high quality standards and attention to customers' needs.
- avoiding errors, waste, and delays by optimizing the use of internal resources and outsourcing.
- pursuing actions aimed at the continuous improvement of its processes.

ISO 9001 standard not only certifies the firm's quality, but it encourages the firm to undertake a process of continuous and constant improvement. It also supports the optimization of both operational and support processes, the design and implementation of a quality management system, for the achievement of the maximum customer satisfaction.
Every year Tecnovideo redefines its goals, to guarantee they continue to satisfy customers' needs.

QAN - Quality Assurance Notification (ATEX certification issue)
TECNOVIDEO is subject to continuous monitoring of systems and processes in relation to the category of products for Hazardous areas in compliance with the EN 80079-34 standard.
The ATEX quality guarantee is a mandatory requirement and is confirmed by periodic audits conducted at Tecnovideo headquarters. Each time an audit is passed successfully, the QAN ATEX certificate is confirmed or a new revision is issued with a 3 year validity.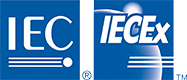 QAR – Quality Assurance Report (manufacturing of IECEx certified products)
TECNOVIDEO must guarantee the conformity of its IECEx certified equipment to the requirements of the IEC 80079-34 standard. As with the ATEX QAN, an audit is periodically performed to confirm or update the IECEx QAR. It is valid for three years and an updated copy can be found on: www.iecex.com.

Class 1 – Zone 1
To meet the applicable North America legislations regarding the installation of Flameproof electrical goods, Tecnovideo offers a vast range of FM approved video surveillance camera stations and accessories that are (Class 1/Zone 1) certified suitable for Oil & Gas and industrial applications, to assure risk prevention and operators' safety.
OTHER CERTIFICATIONS

LEGALITY RATING AGCM
Since 2018 TECNOVIDEO has acquired the Legality Rating, demonstrating its high standards of compliance with the law in force. The rating was created in 2012 with the aim of promoting ethical principles in the corporate conduct in Italy. In particular, the Legality Rating examines the corporate operating activities and factors related to governance, transparency, environmental impact, and other typical aspects of firms' corporate social responsibility.